COYOTE SCHOOL NEWS
Sorry to say, Coyote School News is no longer in print.
You may be able to find it in your library, or buy a used copy.
Please email me if you're having trouble finding it.

Listed
2004 NOTABLE CHILDREN'S BOOKS
IN THE LANGUAGE ARTS (NCTE)
Finalist
THE TOMÁS RIVERA MEXICAN AMERICAN
CHILDREN'S BOOK AWARD
Nominee
TEXAS BLUEBONNET AWARD
Top Pick
SOUTHWEST CHILDREN'S BOOKS 2003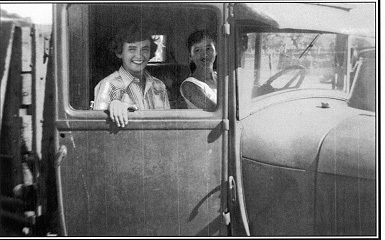 The idea for COYOTE SCHOOL NEWS came from two sources: The first was my best friend in high school, María Amado, whose pioneer Mexican family had a town named after them - Amado, Arizona.

They also had a big old-fashioned ranch halfway between Tucson (where we lived) and the Mexican border. We had fun visiting the ranch when we were in high school.

María had lived there when she was little, and she and her older sister, brothers, and cousins had all gone to Sópori School, a school a lot like Coyote School in my story.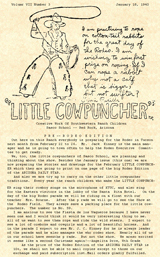 My second source of inspiration was Little Cowpuncher, a mimeographed school newspaper, written and illustrated by Southern Arizona ranch kids.

The paper came out from 1932 through 1943 at five different one-room schools.

One of those schools was Sópori School, my friend María's school.

Five of the kids who contributed stories and pictures were María's older brother, sister and three of her cousins.

I was so inspired by Little Cowpuncher, that I included a school newspaper in my story.



Can you see how much Coyote News looks like Little Cowpuncher?
There's a delightful authenticity to this fictional account of the events of 1938 in a one-room school in the ranch country of southern Arizona. As explained in the author's note, the story is based on an actual collection of newspapers from a similar school, and upon the reminiscences of the author's good friend, María Amado. Sixteen brief chapters are accompanied by Sandin's lovely watercolors and her yellowed "reproductions" of the purple-inked copies of the student-produced "Coyote News." Bad roads, rattlesnakes, chile-picking, English, baseball, movies in Tucson, a Halloween party, a round-up, the Fiesta de los Vaqueros, and a competition for perfect attendance will keep readers turning the pages as they become engrossed in the lives of the 12 children and one teacher of Coyote School. Sandin's love and knowledge of this land and its history are evident in both text and illustrations. "¡Muy Hermosa!" (glossary of Spanish words with pronunciations, maps, author's note)
Kirkus Reviews
An entertaining bit of historical fiction set in 1938-1939. His country may be preparing for war, but fourth-grader Monchi Ramírez wishes that President Roosevelt would turn his attention to fixing the bumpy roads leading from his family's southern Arizona ranch to the area's one-room schoolhouse. His schoolmates are white and brown, rich and poor, but united in their affection for their teacher, Miss Byers. Monchi narrates a year's worth of episodes at school and at home, telling of a vaquero roundup, a broken wrist, Nochebuena feasting, and the elusive Perfect Attendance award. Interspersed are full-page issues of the Coyote News, the student-produced newspaper. The text is long enough to be a beginning chapter book; however, Sandin's sensitive watercolor illustrations and the "mimeographed" newspaper pages necessitate the larger, picture-book format. The text is peppered with Spanish words and phrases, and a glossary with pronunciation guide is appended. Without didacticism, this book shows readers that Mexican traditions have been part of the American cultural landscape for generations, yet the book's appeal is broad and not limited to social studies units.
Eve Ortega in School Library Journal
Inspired in part by newsletters written by students at Arizona ranch country schools in the '30s and '40s, Sandin (The Long Way Westward) combines a first-person narration by a fourth-grader, Monchi Ramírez (whose family lives on the ranch built by his great-grandfather) with issues of the "Coyote News," his school's monthly newsletter. The book opens in 1938, when the silver dollar offered by the teacher for perfect attendance exercises a strong hold on Monchi's imagination. Sandin finds some colorful moments, both in Monchi's life with his five siblings on the ranch and in the tiny schoolhouse that he shares with 11 classmates, the sympathetic teacher and the teacher's dog. Perhaps the best nuggets are found in the "newspaper," which looks authentic in its purple "mimeographed" typeface and with its "student" drawings (after they listen to FDR on the radio, a third-grader writes: "When he said `war' it sounded like `waw.' We were all laughing because we never heard anybody who talked like that") ... an enhanced historical perspective, a feel for Mexican-American culture and the satisfaction of seeing even minor characters grow.
Publisher's Weekly
Twelve students of varying ages and their teacher are portrayed on the opening end papers with a date of September 1938. The closing end papers show the same group of people with the date of May 1939. Monchi, one of the students, relates his experiences within. He lives in Rancho San Isidro in southern Arizona and attends Coyote School with his brothers, sisters, cousins, and neighbors. They all like Miss Byers and her ideas for fun learning activities, especially her suggestion that they publish a newspaper. Articles and pictures produced by the students are featured on a single mimeographed sheet for each month. Most of Monchi's writings are about the promise of a silver dollar as a prize for perfect attendance. Other contributions feature school news and personal observations of the students. Celebrations and traditional customs bring holidays, such as Halloween and Christmas, to life. Participating in the parade for La Fiesta de los Vaqueros in Tucson and helping with his first roundup are highlights of Monchi's year. Author Sandin based the story on interviews with people who attended such a school and researched school newsletters of the era. Colorful illustrations and the inclusion of the newspapers contribute to the authenticity of the story. Spanish words and terms are written in Italics and defined in a glossary in the back. The introduction includes a Web site with examples of actual student newspapers. Although this is a fictionalized story, it has good potential for understanding this time and place in history.
Phyllis Kennemer, Ph.D. in Children's Literature
My name is Ramon Ernesto Ramirez, but everybody calls me Monchi. I live on a ranch that my great-grandfather built a long time ago when this land was still part of Mexico.

So begins Monchi's story of the 1938-39 school year at Coyote School in Pima County, Arizona. Every day, Monchi and his friends catch a bus and take a long, bumpy ride to school. But the journey is worth it, because this is a special school year. Their new teacher, Miss Byers, has lots of fun new ideas, like baseball at recess. Not only that, she encourages her students to create their own newspaper, the Coyote School News.
In the paper,Monchi and his friends record stories, news items and noteworthy events, such as their Halloween party or the time when their bus driver ran over a rattlesnake. As the year progresses, the reader gets to know Miss Byers, her students and their way of life through Monchi's story, as well as through monthly editions of the paper.
This unusual and delightful picture book is based on the true story of an Arizona teacher, Eulalia Bourne, who created a collection of mimeographed newspapers with her students in Arizona county schools from 1932 through 1943. Author Sandin's story is based on these newspapers, as well as the memories of a high school friend who attended a school very much like the one depicted in the book.
Longer than the usual picture book, Coyote School News includes 17 short chapters, as well as the students' newspapers for each month, from September until May. The book's length means that readers get the chance to follow Monchi's adventures as he helps with roundup at the ranch, picks chiles and celebrates Nochebuena (Christmas Eve) with tamales and a piñata.
Simple and straightforward, Coyote School News is a heartwarming portrait of a community in a time gone by. And it's sure to be a favorite of parents, teachers and kids for years to come.
Deborah Hopkinson in Bookpage
Except for quoted reviews, all text and art copyright © Joan Sandin. All rights reserved.
No text or image may be reproduced without the express written consent of the author/illustrator.