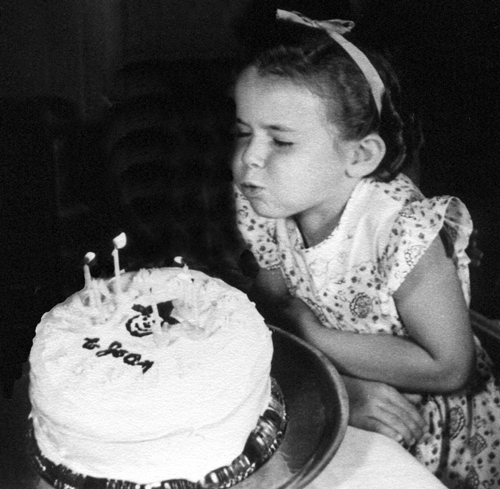 I grew up in Tucson, Arizona

I was born in Watertown, Wisconsin on moving day - not very considerate of me was it?

My family lived in Wisconsin, Minnesota, and Washington state before settling in Tucson, Arizona. My parents had never been in the Southwest before we moved here, and they didn't know too much about it - except that it was hot. But when they looked at a map of Tucson and saw there were two rivers running through town, they thought it couldn't be all that bad - you could always cool off with a swim.

Big surprise! When we arrived in August the two Tucson rivers were (as they usually are) bone dry. But my parents liked the sunshine, and they thought playing tennis was a lot more fun than shoveling snow. So they stayed.

My brother Tom and I grew up in Tucson, and our sister Lynn was born there. Tucson was a small town back then. I walked a mile to school through the desert, with roadrunners and quail for company - and we lived in the middle of town!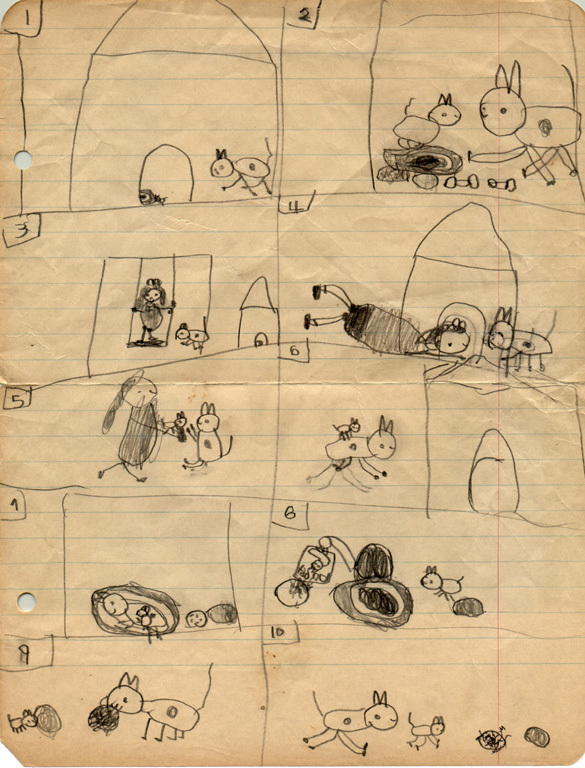 I always loved to draw pictures.


I can't remember a time when I wasn't
drawing pictures.

When I was about four, I went to a kindergarten
that had child-size easels with big pads
of white paper and pots of paint.
Oh, I was in heaven!

At school I got to do the drawings for posters,
and for our school newspaper.
Of course Art was always my favorite subject.

This is a cartoon I drew when I was four or five.
My mother saved it all these years.
I have no idea what it was about.
What do you think?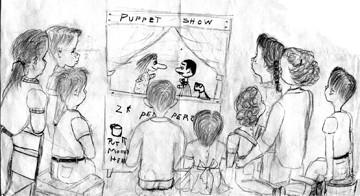 I liked to make puppets
and perform shows for my friends.
(Do you think I charged them
two cents to watch?)

Many years later,
when I was about eleven,
I drew this picture
of one of my puppet shows.
My favorite artist was Norman Rockwell
More than once, I borrowed a big book from the library with all of Rockwell's paintings for Saturday Evening Post covers. My friends were nice enough to look at them and join the fan club I started for him. We never told Norman Rockwell anything about our club. We thought he was too famous to care, but maybe we were wrong about that...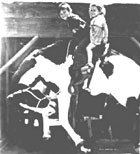 My first book was hardly a Best Seller.
My first book was one I illustrated for a story my brother Tom had written.
Tom was eight years old and I was five.
The story was set in a cave, and all the pictures took place in the dark.
Only one person bought that book - our mother. I think we each got a quarter.
You know, that's the same split I have today when I illustrate a picture book written by another author - 50/50.
I studied Art in college.
I graduated from the University of Arizona with a BFA in Art. Besides Painting, Drawing, and Printmaking, I took a lot of other classes - like Physics, Philosophy of Aesthetics, and Spanish. I wasn't much good in Physics, but I loved the Philosophy class because it was all about why things are considered beautiful or artistic.
And of course I've found Spanish to be very useful all my life.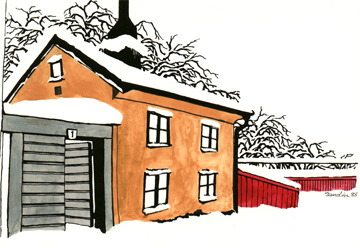 I used to live in Sweden.
I lived in Stockholm, Sweden for fifteen years.
This is a picture I did of my studio
on a snowy day.
(The medium is painted lino-cut.)
I lived in Sweden so long
that I learned the language well enough
to write some children's books in Swedish.
I also translate Swedish children's books into English.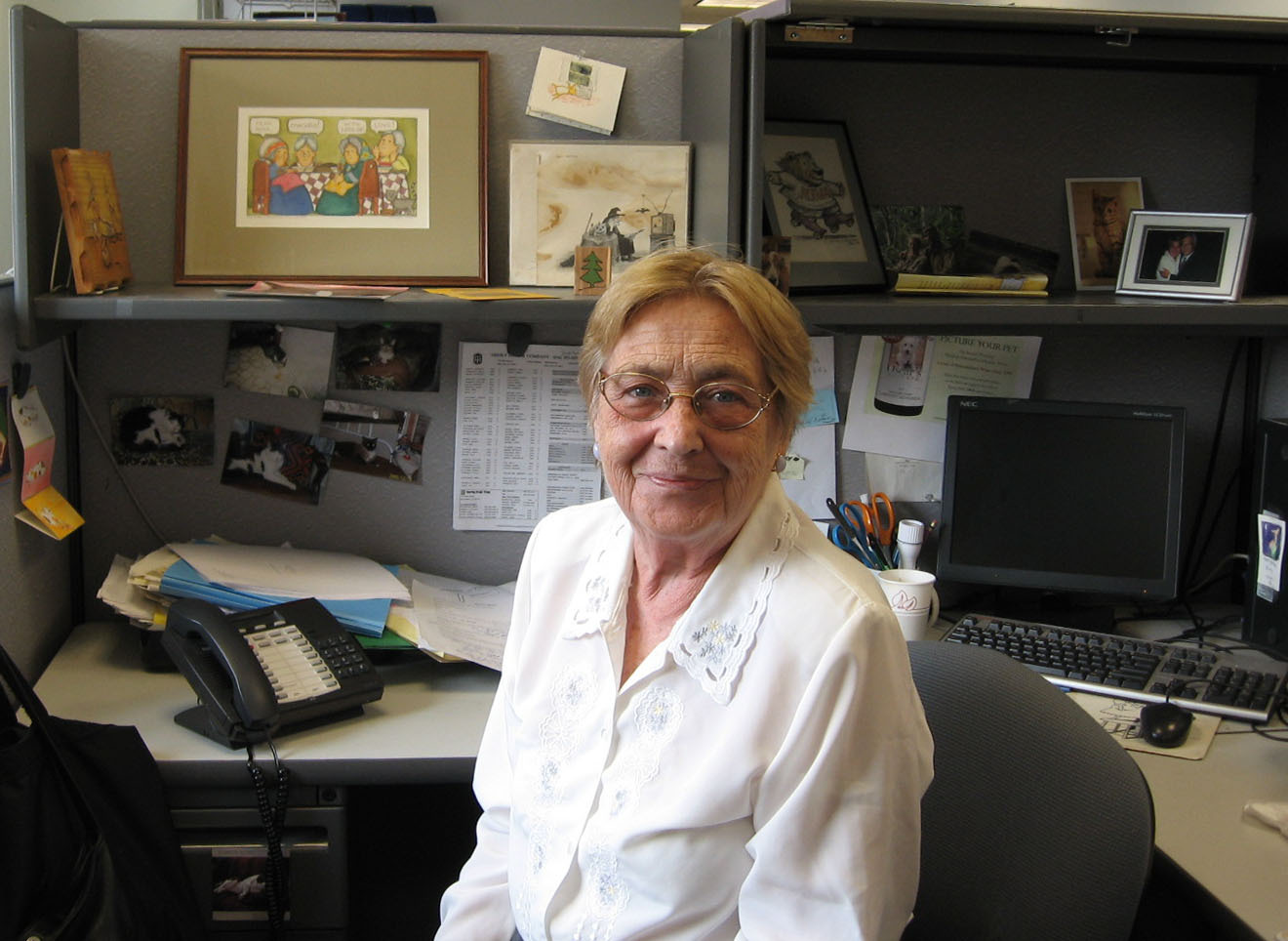 This is Nina Ignatowicz,
my wonderful editor of almost 40 years.
I worked with her at Harper, Clarion, and Holt.

Nina died on January 19, 2013.
All text and art copyright © Joan Sandin. All rights reserved.
No text or image may be reproduced without the express written consent of the author/illustrator.