DANIEL'S DUCK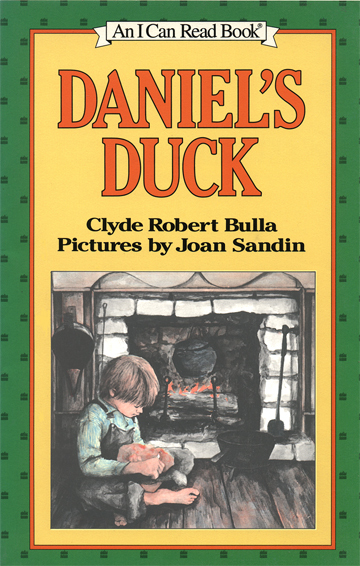 Notable Children's Books of '79 (ALA)Children's Books of 1979 (Child Study)

REVIEWS

Rarely does a beginning reader combine so many fine elements: a sensitive portrait of a child's need to succeed, a glimpse of life years ago in the Tennessee hills where the long slow winters are given over to quilting and carving for the spring fair, beautiful muted illustrations by Joan Sandin, and an ending which gives insight on the nature of art. Bravo for the boy, who carves Daniel's Duck and learns a great deal about himself and his gifts in the process, and for Clyde Robert BULLA.

School Library Journal

Daniel, who lived in a cabin on a mountain in Tennessee, wanted to make something for the spring fair, as the rest of his family were doing. Using the block of wood and the knife his father gave him, the boy carved a duck with its head looking backward. At the fair, people laughed when they saw the carving, and Daniel thought that his work was being ridiculed; but he was more than consoled by a famous local wood-carver, who not only praised Daniel's duck but offered to buy it. The easy-to-read story and the simple format are excellently served by the subdued three-color illustrations, which round out the account of a traditional Appalachian family by introducing details and characters only hinted at in the text.

The Horn Book

Daniel is hurt when others laugh at his wood carving, until he learns that giving people pleasure takes a very special gift. Good, warm feelings result from reading this gentle tale set in rural Tennessee during pioneer days. A lovely book on all counts.

The New York Times

The setting is rural Tennessee, when people lived in log cabins and had little to do other than make handicrafts during cold winter months. Daniel's winter project is carving a wooden duck, something he puts his soul into despite his elder brother's warning that "it takes more than a good knife and some wood." Unaware of his talent, Daniel takes his duck to the spring fair in town. A gathering crowd's laughter sends him running in humiliation; it requires the sensitive, admiring words of a master wood-carver to make Daniel see that "there are different ways of laughing." Historical context is subtly realized through the line of a heartfelt narrative. The three-color illustrations show careful attention to detail and an interesting variety of personalities.

Booklist
Except for quoted reviews, all text and art copyright © Joan Sandin. All rights reserved.
No text or image may be reproduced without the express written consent of the author/illustrator.