PIONEER BEAR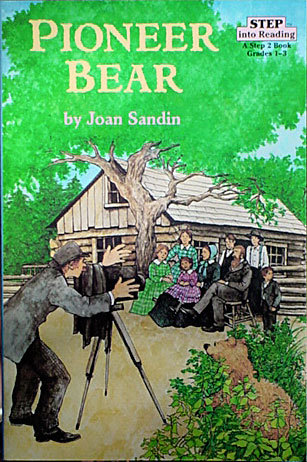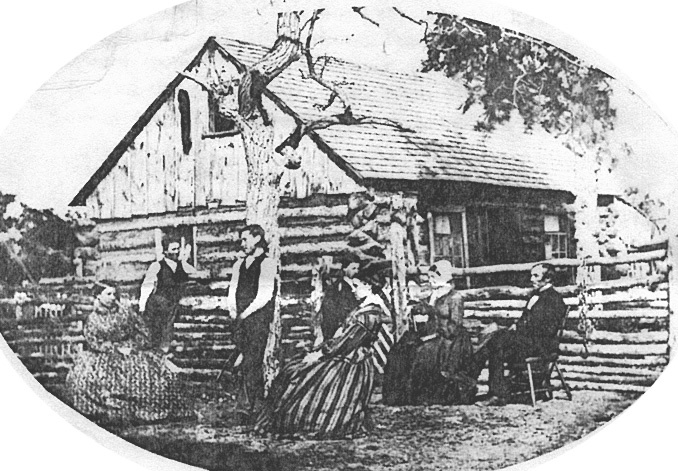 BACKGROUND

An old photo I came across at the Minnesota Historical Society was the inspiration for my story Pioneer Bear.
The sad-looking boy pictured in the center of the posed family portrait was holding a bear harness. That got me thinking...
The original title was Bearly in the Picture (suggested by my daughter.) I always liked that title better than Pioneer Bear.
A delightful adventure for beginning readers. When Andrew Irwin finds an orphaned bear cub in the woods, he takes it home and teaches it tricks. News of this clever animal reaches the town photographer, John Lacy, and he travels 30 miles to the farm to take its picture. When he arrives, the six Irwin children search everywhere, but no one can find it. As the light of day begins to fade, Lacy offers to take a family portrait instead. The finished portrait shows that curious Bearly was, indeed, a part of it. Pioneer activities such as washing laundry in tubs, chopping wood, harvesting and storing vegetables, and smoking meats are realistically presented in warm watercolor illustrations. Readers will giggle as they find Bearly in the bushes, on the roof, and behind the outhouse as Andrew and his brothers and sisters search for the camera-shy bear. Pioneer Bear will have broad appeal because of its action and suspense.
School Library Journal
This entry in the Step into Reading series is for children who've mastered some reading basics. The story is nicely straightforward: a pioneer photographer hoping to photograph a bear belonging to little Andrew accomplishes his goal--but not in the way he planned. Without being overly cute, the soft-edged watercolors evoke a variety of pioneer settings, at the same time offering a few surprises to readers (kids will periodically spot the bear hiding from its adopted family). The story is... gently humorous and light, and it will bring pleasure to children ready to expand their reading experiences.

Booklist

News of a dancing bear has reached frontier photographer John Lacy, who brings his new-fangled camera to the Irwin cabin to take the bear's picture. AndrewIrwin, Bearly's young owner and trainer, can't find the cub just then and so, after the family conducts a thorough search from henhouse to outhouse, they decide to pose for a family portrait instead. When the photo is delivered some days later, the family is delighted to discover that Bearly wasn't about to be left out of the picture after all. Primary schoolers will enjoy sighting Bearly, in the softly rendered watercolor scenes, as he peeks from behind outbuildings and foliage and peers through windows in familiar Where's Waldo? fashion...

Bulletin of the Center for Children's Books
Except for quoted reviews, all text and art copyright © Joan Sandin. All rights reserved.
No text or image may be reproduced without the express written consent of the author/illustrator.